I recently finished the audiobook version of "The Happiness Equation" by Neil Pasricha. I first knew Neil as that guy who wrote the "1000 Awesome Things" blog (look it up, it's amazing!), and then our HR department invited him to deliver a keynote at our annual employees' PD Day in 2017. 
One of the things he talks about in the book, and that he talked about that day, is the concept of "ikigai," which is a Japanese term meaning "reason for being" (and pronounced "icky guy"). Then I found the diagram below, originally published in the Toronto Star and used it in a workshop I ran for a group of guidance counsellors at least year's OSCA conference. Recently, I've started pulling it into my career coaching sessions with students.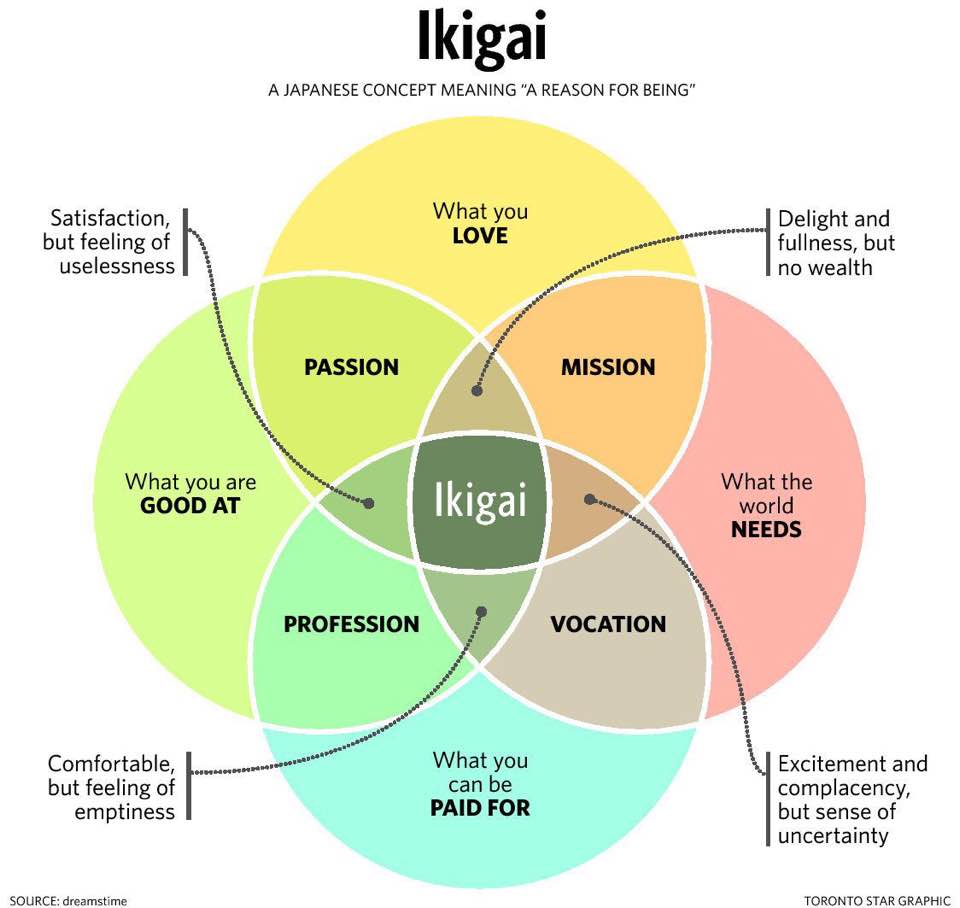 Before coming to DC, I worked for Skills Ontario, promoting careers in the skilled trades as a first-choice option for Ontario students.  I definitely used phrases like "follow your passion" and "find your fit" and "do something you love and you'll never work a day in your life." What have I learned since then? That doesn't work for everyone. In fact, it doesn't work for a large proportion of everyone. Quite frankly, there's really nothing wrong with your job being just a job. If you commit yourself to work well, show up, be a team player and produce quality…whatever your thing is, then you are doing it right. I'm not saying you should stay in a toxic work environment or with an abusive boss, we're talking about at least tolerating your job and giving it your best while you're at work. That's perfectly reasonable.
Life, your ikigai, is bigger than your job.  The number of people who find that life and career and family all align to a singular purpose are actually quite rare, and even they have days where they think "crap, what did I get myself into?" I find the diagram really helps people when they feel career confusion, or feel stuck in their career (or program) choices. We all have bills to pay and responsibilities. We all get the same number of hours in a day, and we all have likes and dislikes. If you don't make a living as a rock star like 12-year-old you thought you would, that's OK. You can pay the bills with work, and be a weekend warrior rock star in your basement, garage or the local pub. The point is to aim for balance. Determine what your ikigai is, and use time at and away from work to meet it.