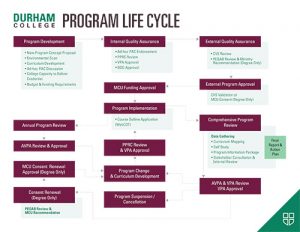 The Academic Quality team manages and provides guidance to the college community to support DC's commitment to offering quality programs to its students ensuring established quality assurance processes and initiatives are successfully implemented. Our team works collaboratively with internal and external stakeholders to ensure that we are meeting our internal policies and standards, requirements from the Ministry of Colleges and Universities (MCU), industry, and external accrediting bodies.
Academic Quality processes assess the entire program life-cycle using evidence-based decision-making principles throughout the program development phase from internal and Ministry approval, program launch, annual and comprehensive renewal, to ongoing program success or cancellation. We are committed to continuously improving academic quality to support academic excellence and a successful student experience.
New Program Development

The identification of new programs for development is a strategic initiative facilitated by a collaborative and consultative process with expertise, input and support from...

Curriculum Development

Good teaching and learning begins with a well thought-out curriculum. A strong infrastructure supports faculty with delivery and creating the learning and assessment opportunities...

Institutional Audit

Durham College (DC) undergoes a regular and cyclical institutional-level external review of the quality assurance mechanisms within the college. This College Quality Assurance Audit...