Keri Semenko teaches in the Animal Care program in the School of Health and Community Services, bringing her passion for animal behaviour and welfare as well as her expertise in wildlife studies to her courses. Before arriving at Durham College (DC), she spent a number of years in the animal shelter system in Ontario. Keri's experiences in the sector – and her personality – shines through in her teaching. She is genuine and passionate, and her sense of humor is embedded in her lessons.
Keri engages her students in their learning by "ask[ing] them to think about how the material connects to things they have experienced and the jobs they hope to have. Making the knowledge relevant is key". She also exposes her students to many different experiences that they may not otherwise have had. She finds it particularly rewarding when a student finds their own passion from what they've learned in the program.
"I love to see a new career path appear in front of them".
Like many of her colleagues, Keri notes that converting course material for remote delivery can be challenging, but also exciting, particularly learning how to do things differently. She's noticed that, in some ways, there seems to be more connections with her students in the Virtual Classroom than in-person; for instance, students have been using the chat features to "talk" to one another even while she is teaching.
"When you're teaching in-person the students don't talk all the time, but they interact more virtually than they would in in-person classes".
These interactions usually lead to interesting student-initiated discussions. In one class, a student asked a question about an ostrich, which wasn't part of the lesson. Keri responded to the question and encouraged him to focus on ostriches in his assignments if that was his interest. This is a great example of applying Universal Design for Learning principles!
When asked how she maintains a sense of community in her remote classroom, Keri refers to her easygoing personality, indicating that it's a fine balance between having control over the environment and giving students the space to engage in the ways that they're comfortable. Keri frequently uses the discussion boards so that all of her students have an opportunity to provide input, and in synchronous sessions, she uses breakout rooms and the polling tool. Keri notes that everything she's learnt while delivering her courses remotely "will change my on-campus delivery in that my in-person classes will be more interactive".
Keri uses the virtual classroom to bring new experiences to students, creating new opportunities that students previously would not have had. For instance, this week, she is hosting a virtual field trip to the Ontario Turtle Conversation Centre, an opportunity that was previously not available to her students, given the transportation costs. Keri has also planned to have a Toronto Zoo staff member as a guest speaker in her course, providing additional learning resources for her students. Keri passionately alludes to "bring[ing] real life experience[s] to the virtual world". Keri recommends that faculty reach out to their networks and see what new opportunities are available now for virtual field trips or guest lectures.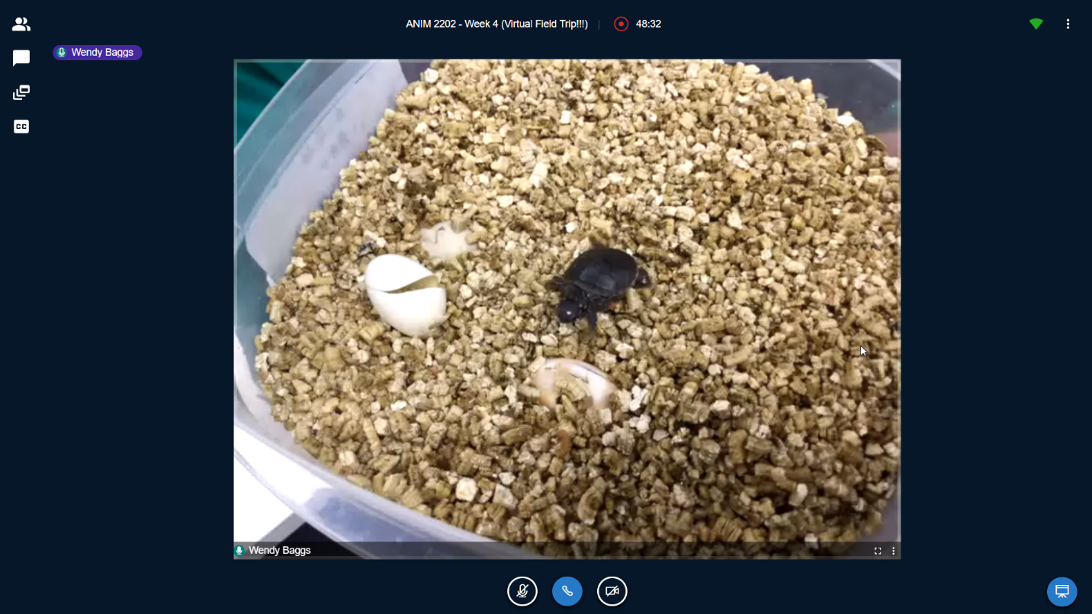 When asked what advice she has for other professors, she replied:
"Let your students see the passion that you have for what you teach and be yourself. Having a sense of humour is important. And remember back to those teachers who changed your life – you might be that person for a student".
Keri's passion for animal care extends outside the DC walls: This year, she was selected as the Program Chair for the Humane Canada's National Animal Welfare Conference, which is the largest animal welfare conference in Canada – and the first time someone outside the organization has been selected. Keri notes that this "keeps me in touch with the front line of animal welfare and the most up-to-date knowledge in the field".