What is the Part-time Faculty Orientation program?
Part-time Faculty Orientation is a two-day professional development opportunity designed to introduce you to teaching and learning at Durham College. The program provides the opportunity to actively participate in sessions that will introduce you to the science of learning, curriculum, lesson design, instructional and assessment strategies, and learning technology. It is designed to give new educators the information and strategies to begin in the classroom and is delivered through modelling our philosophy of active and collaborative learning.At the completion of this two day program, faculty will have had the opportunity to:
Review Durham College academic policies;
Increase their understanding of curriculum and its meaning to their courses;
Engage with active learning strategies;
Examine various assessment tools and strategies;
Explore foundational DC Connect skills; and
Enhance their value to Durham College.
We know that you will enjoy your introduction to teaching and learning at Durham College! It's a great place to work and we're happy to have you join us!
Registering for Part-time Faculty Orientation
This semesters Part-time Faculty Orientation program registration has ended. Check back before next semester start!
2020-2021 Part-time Faculty Orientation Winter Dates & Information
This winter semester, the part-time faculty orientation program will be presented virtually, and will be delivered both synchronously (set online meeting time) and asynchronously (work offline on your own). There are three session offerings for you to select from. When registering, you will be asked to select ONE of the following options:
Weekday Session
Option 1
Thursday, December 17, 2020 – 8:45 a.m. to 4 p.m.
Friday, December 18, 2020 – 9 a.m. to 4 p.m.
---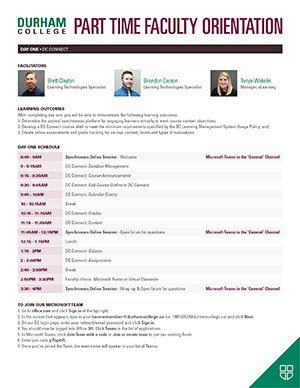 WeekEND Session:
Option 2
Saturday, January 9, 2020 – 8:45 a.m. to 4 p.m.
Sunday, January 10, 2020 – 9 a.m. to 4 p.m.
NOTE: To participate, you will require access to a computer, internet and have your Banner ID login and password. Please ensure you have that information at least 48 hours ahead of your session, so you can check to be sure you can get into DC Connect and MS Teams.
Policies
New faculty should review Policy Primer for Faculty which is a subset of the policies at Durham that are more likely to directly affect faculty.