SoTL projects require a systematic (methodological) approach to educational inquiry (research) to frame and ensure result are valid when analyzing, reporting and sharing.
Simply stated, the process involves:
Asking (a) meaningful question(s) about student engagement and learning, and how contemporary teaching practices are designed and delivered;
Establishing a hypothesis and set of parameters outlining what success may look like based on instructional experiences and literature review;
Engaging students in relevant instructional activities to assess predetermined aspects of engagement and learning (or mis-learning), and gathering data pertaining to that learning;
Reflect on the gathered data and associated information as it relates to the proposed question(s);
Devising a conclusion to the proposed question(s) based on the research analysis;
Sharing the results of your inquiry publicly for review and contribution to the body of knowledge on student learning and engagement.
The SoTL framework can be broken down into 5 primary components that follow two potential pathways.  The primary difference is where the instructional "intervention" occurs.
Along the first pathway (fig. 3), the problem/question is identified, the pre-determined intervention is implemented, the research is structured around how the new strategy is impacting student learning, and conclusions are drawn from there.  An instructional intervention is the deployment, or integration, of a revised or new strategy or technology with the purpose of improving student learning in a specified area.  In other words, it is changing the old way to try something new.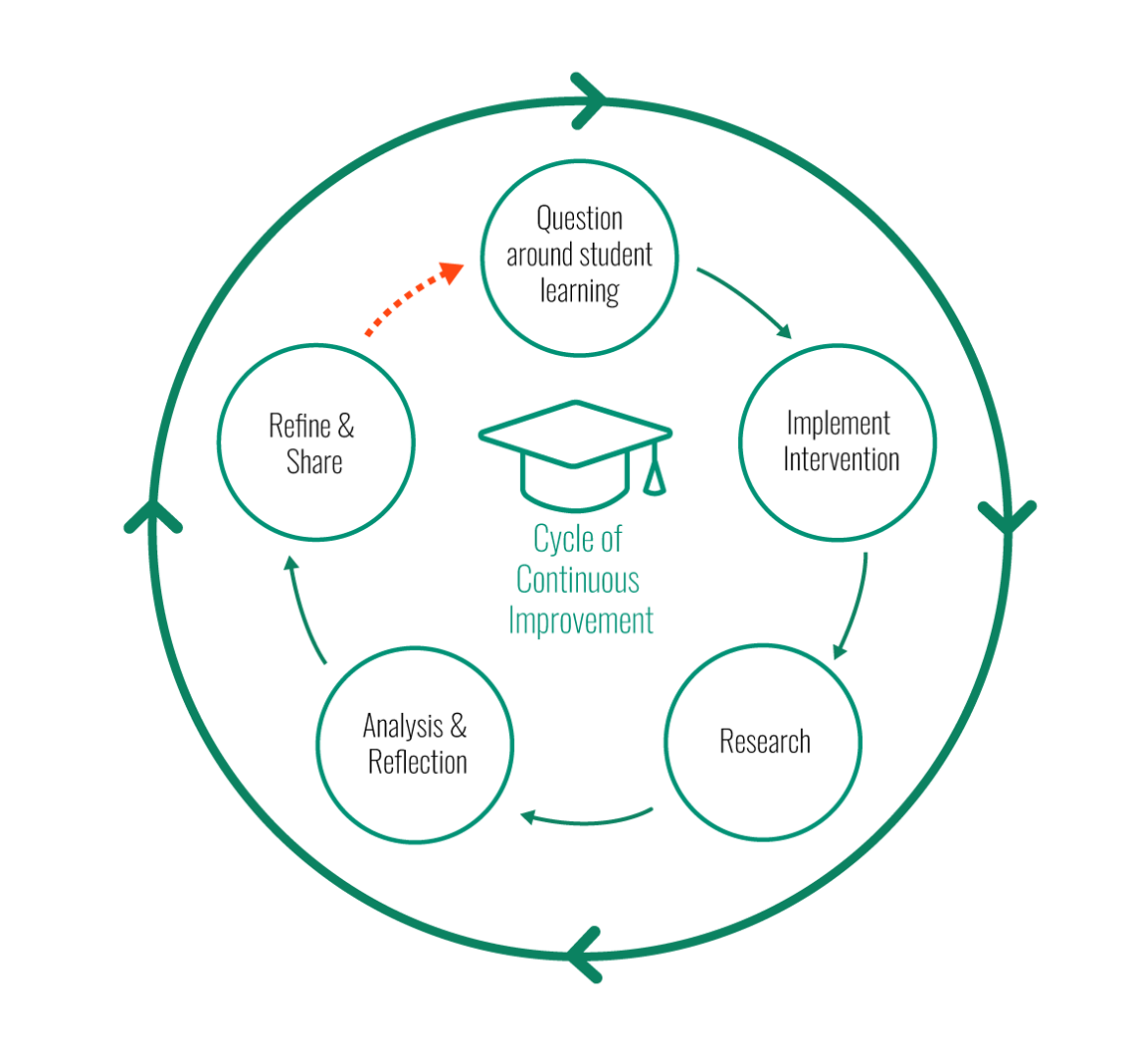 The second pathway (fig. 4) has the educator identifying the question, completing the research but this time it is a two-stage process: the first stage of research focusses on why the challenge may be occurring.  The data is analyzed and then an intervention is proposed.  The second stage begins with implementation of the intervention in the classroom, and an overarching conclusion is reached after observing the impact of the new strategy.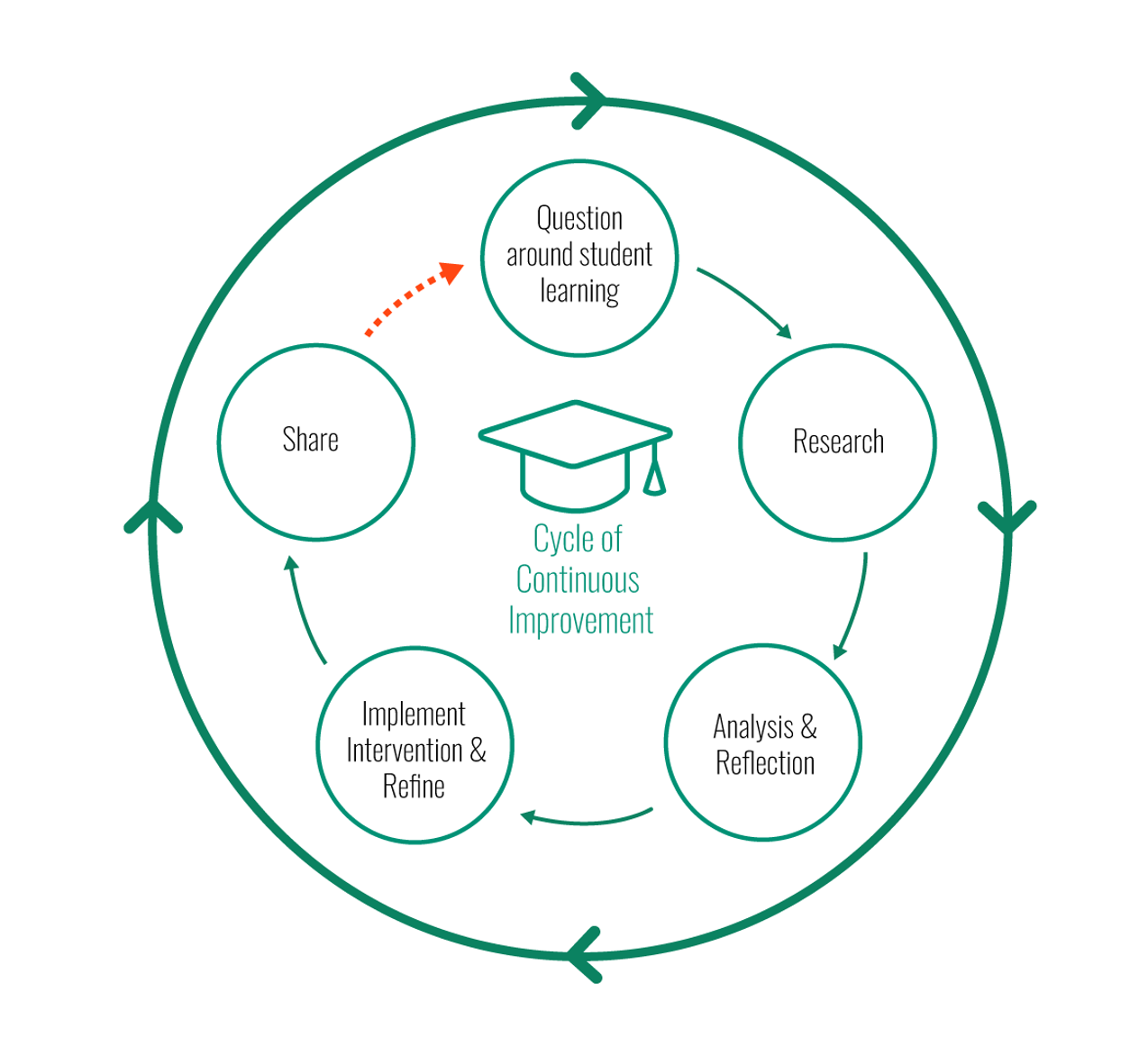 You can choose which pathway best fits your objectives and research focus.
With any SoTL project, the keys to success are simple:
a clear target (research question),
appropriate and adequate preparation,
selecting and employing appropriate inquiry methods,
developing a critical and authentic reflection, and
sharing in an effective manner that invites critique and feedback.
While SoTL projects may manifest and action differently between disciplines, they are all, inevitably, aimed towards the same focus: How do we improve student learning? If the educator keeps this end goal in sight, the merit of the project will be apparent, and the learning from it of great value.
Please review Queen's University Educational Research: A Practical Guide and/or theResearching Teaching and Student Outcomes in Postsecondary Education: An Introduction (heqco.ca) for a detailed breakdown of the processes and steps related to scholarly research in higher education.
---
References
Collaborative Inquiry. (n.d.). Retrieved May 20, 2020, from http://open2.senecac.on.ca/sites/teaching/collaborative-inquiry/
Scholarship of Teaching & Learning: Home. (n.d.). Retrieved May 22, 2020, from https://sheridancollege.libguides.com/sotl