What programs does Durham College (DC) offer?
Durham College offers over 140 programs. Search programs by type:
Search programs by academic school:
What is the application deadline?
Applications are accepted year round. Applications will continue to be processed until programs fill or deadlines to apply for study permits through Immigration, Refugees and Citizenship Canada (IRCC) come into effect for each intake. We encourage students to submit their admission application as early as possible to ensure sufficient processing time.
How do I apply?
Applications can be submitted completely online directly to Durham College. All documents can be scanned and uploaded as a part of your online application. Visit the how to apply section of our website for further information and to begin your application.
What are English Language Proficiency requirements?
English Language Proficiency requirements can be met through a recognized test or by completing an ESL program through a Durham College pathway partner. Applicants from some English-speaking countries may be exempt from English Language Proficiency requirements upon provision of a full transcript. For complete information on this requirement, please visit the English Language Partners schools page.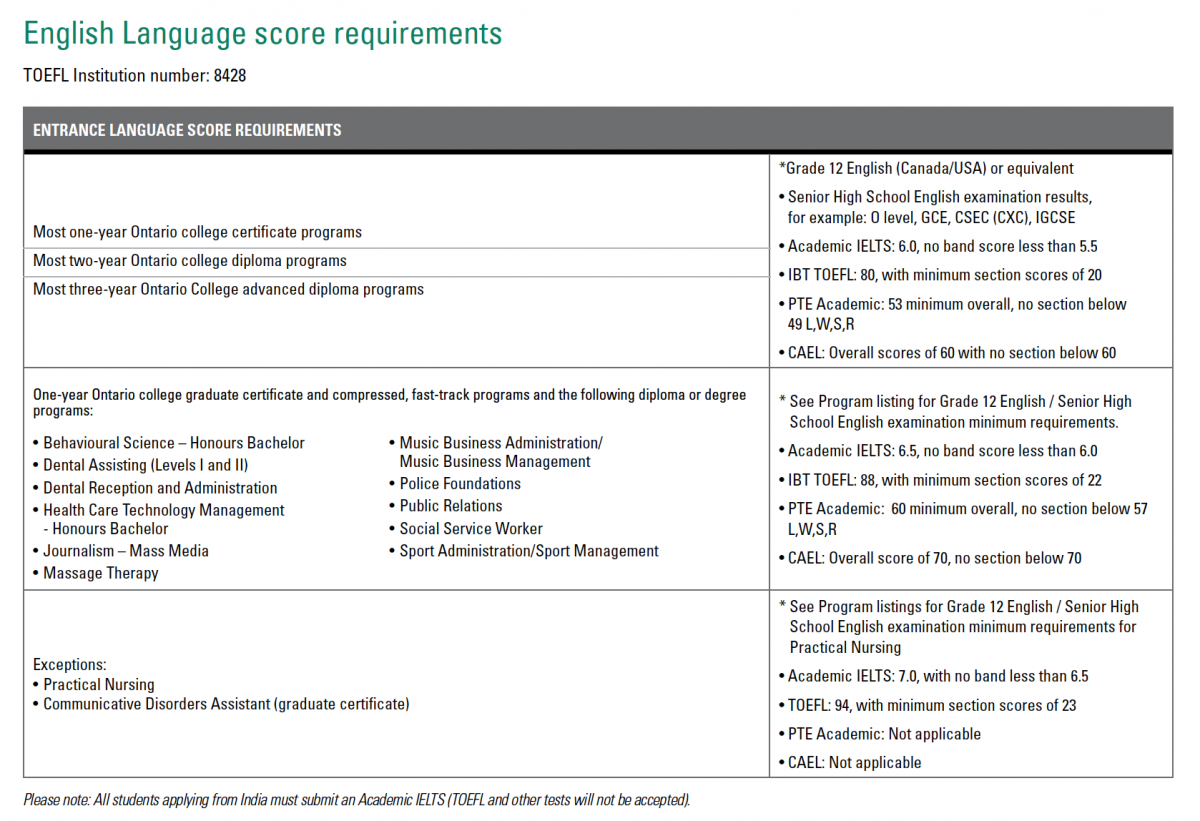 When do I need to pay tuition fees?
Tuition fee payment deadlines are outlined in the Letter of Acceptance provided to newly admitted students. However, we encourage students to pay their fees as soon as possible because program seats can be filled before the indicated payment deadline. Please visit our financial information page for further details.
How do I need to pay tuition fees?
Once you have applied to study at Durham College you will have access to your own personalized My Campus student portal which will detail information on payment of fees. Once you have accepted your offer you will automatically be directed to the payment option. Payment can be made online through credit card or wire transfer. Your seat in the program will only be secure once you have confirmed and paid your tuition fees.  Tuition fees can either be paid for the full academic year or by semester.
How do I get a study permit?
Once you have received a letter of acceptance you can apply for a study permit at the nearest visa processing office of Immigration, Refugees and Citizenship Canada (IRCC) to your home country. Visit IRCC's website to find out how to apply for a study permit.
Where is DC located?
With campuses in Oshawa and Whitby and a learning site in Pickering, Durham College is situated in the centre of Durham Region, which offers sports, culture, education and music; provides easy access to Canada's leading business and cultural centre; and enables you to play cricket, ski, snowboard, hike, walk, bike, windsurf, sail, fish and more, all within 30 minutes of campus. Durham College is part of the Greater Toronto Area (GTA), with downtown Toronto (a cultural hot spot) just 45 minutes from our Oshawa campus, providing easy accessibility to a wide variety of extracurricular and cultural experiences. Popular destinations include the CN Tower, the Toronto Zoo, the Art Gallery of Ontario, the Royal Ontario Museum and the Ontario Science Centre. For more information about the region including activities, attractions, cultural groups, international dining and much more, please visit www.durhamimmigration.ca.
Where can I live when attending DC?
Students have the option to live on- or off-campus during their studies. For students who are interested in living in on-campus residence they can find more information at durhamrez.ca. Students who would prefer to live off-campus will be provided free assistance with finding homestay, off-campus residence or shared housing. A pre-departure e-mail will be sent to students after they have accepted their offer of admission outlining how to arrange for on- and off-campus accommodations.
Do you provide airport pickup?
Yes, once you have confirmed your acceptance and paid tuition, you will receive Arrival Services information by email where you can arrange to have someone pick you up from the airport and drive you to Durham College. Make sure to check your email regularly to ensure you are receiving this important information. If you have not received the aforementioned Arrival Services email, you can arrange for Airport Pickup by filling out an online form.