SUCCESS MATTERS
For over 50 years, Durham College has equipped students with the skills and knowledge they need to pursue meaningful careers, make a difference in the world, and create social and economic prosperity for their families and communities. Today, Durham College is synonymous with Durham Region and a cornerstone of its continued growth and success. We have achieved this success through our unwavering vision: to be the premier post-secondary destination for students who succeed in a dynamic and supportive learning environment.
The college offers more than 30,000 students, including over 13,000 full-time, postsecondary and apprenticeship students, access to more than 140 full-time postsecondary and eight apprenticeship programs through the W. Galen Weston Centre for Food and the schools of Business, IT & Management; Continuing Education; Health & Community Services; Interdisciplinary Studies; Justice & Emergency Services; Media, Art & Design; Science & Engineering Technology; and Skilled Trades, Apprenticeship & Renewable Technology.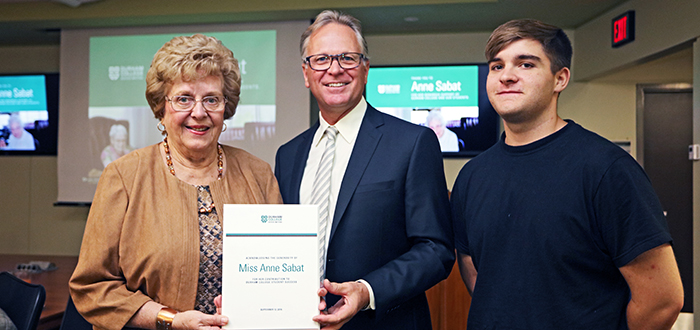 Estate of Anne Sabat
Durham College (DC) and the University of Ontario Institute of Technology (UOIT) announced a $900,000 donation from the Estate of Anne Sabat. The gift will be shared equally by the two institutions to create scholarships and bursaries for students to pursue post-secondary education. Ms. Sabat, who passed away in 2015, was a longtime resident of Oshawa whose family built a successful dry goods and retail…
Read more...
Donor Spotlight