Written by Brandon Wright, Journalism – Mass Media graduate
Social Media, Communications and Community Relations manager, Oshawa Generals
Fired up? Are you ready to go?
Those were the words that greeted us on the whiteboard as we walked into the newsroom at The Chronicle, Durham College's (DC) student newspaper. Written every morning by Brian Legree, program co-ordinator of DC's Journalism – Mass Media program, this mantra not only woke us up, but reminded us that whatever we put our minds to in the newsroom could be achieved.
I was always fired up and always ready to go.
This is just a snapshot of what my overall student experience was like in the DC classroom. As students, my peers and I never felt like numbers in a system. We had genuine connections with our professors who were committed to playing their role in our personal success.
Reflecting on my time in the program, I can honestly say that the school day never ended when classes did. The camaraderie we shared as a group led to many nights staying late on campus to support each other.
Outside of the classroom, the DC experience was just as memorable. Other departments were always ready to help, whether it was the Media Loans office, Campus Security, the cafeteria staff or the Tim Hortons crew. At DC, we were part of a community.
I've been a DC alumnus for more than a year now, and although I miss my DC days, I am extremely proud of what I've accomplished since graduating. Unfortunately, due to the pandemic, I did not get to experience a traditional graduation ceremony at the Tribute Communities Centre – but my program faculty, classmates and I were able to celebrate our milestone many times virtually over Zoom calls.
Life after graduation has been anything but daunting. During my final year at DC, I secured an internship with the Oshawa Generals social media department. Despite season cancellations and layoffs due to COVID-19, I was fortunate to stay on with the organization and earn a promotion. Beginning in the 2021-2022 hockey season, I will be taking on the role of Social Media, Communications and Community Relations manager for the team. Landing my first role so soon after graduating, despite being in the middle of global pandemic, has been a dream come true.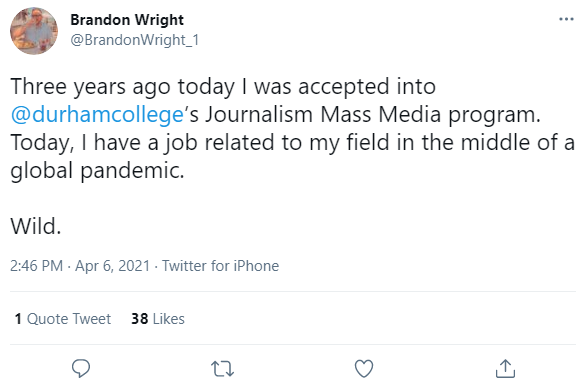 I'm grateful for many things when it comes to DC, and the Journalism program is definitely one of them. While journalism and media communications are slightly different fields, I'm able to apply many of the skills I learned in the classroom in my current role with the Oshawa Generals. DC's combination of in-class, experiential learning and real-world experiences, along with meaningful connections with program faculty members have helped ease my transition into the workforce.
Being a DC student is being part of a lasting community – one that I am incredibly thankful to belong to.