From simulation labs and skilled trades shops, to culinary kitchens, media studios and more, the state-of-the-art facilities and learning spaces at Durham College facilitate hands-on learning that enables students to develop career-ready skills for an ever-changing job market.
Take an instant virtual tour below or explore our campuses through one of our Whitby or Oshawa campus guided virtual tours.
Not sure which campus your program is delivered at? Visit our program list for campus details.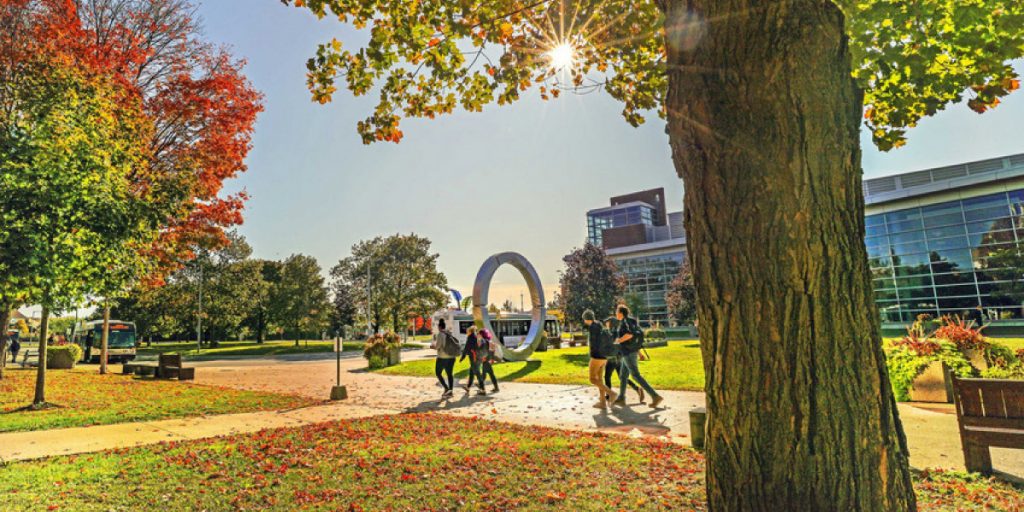 From the Centre for Collaborative Education, which features the Durham College Spa, The Rotary Global Classroom and interprofessional simulation and anatomy labs, to the flexible, fully automated, and industrial-grade Integrated Manufacturing Centre, DC's Oshawa campus is home to numerous of state-of-the-art facilities and learning environments. Explore more of this campus through a virtual tour.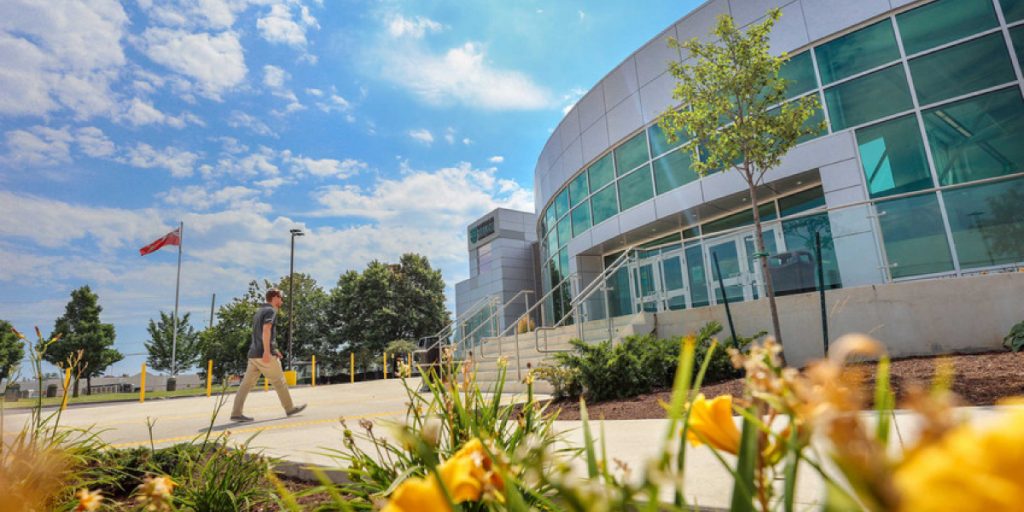 At DC's Whitby campus, students in hospitality and horticulture, skilled trades, animal care, food science and office administration take advantage of the college's innovative classrooms, labs, shops, kitchens and training facilities so they can develop career-ready skills for the ever-changing job market. Explore more of this campus through a virtual tour.
Gordon Willey Building
Named after Durham College's first president, the Gordon Willey Building is the hub for campus life at the Oshawa campus. The 265,000-square-foot building houses state-of-the-art facilities for many programs and services including the 8,000-square-foot Integrated Manufacturing Centre, rapid prototyping and computer-aided labs, lecture theatres, prayer rooms, the Police Education and Innovation Centre, learning commons, the marketplace food court and dental labs to name a few.
Student Services Building
The Student Services building opened to serve students on December 20, 2010. Services in this building include: Career Development, Student Development, Financial Aid and Awards, International Education Office, Student Academic Learning Services, Student Accounts Receivable and Student Enrolment Services.
Centre for Collaborative Education (CFCE)
Durham College celebrated the opening of the new Centre for Collaborative Education (CFCE) in October 2018. A legacy project tied to the college's 50th anniversary in 2017, the CFCE has replaced the college's aging Simcoe building, which was originally built as a temporary structure and opened in 1969.
The multi-level, 75,000-square-foot-facility prioritizes the student experience in all aspects of its design and function. Along with abundant collaborative learning and social spaces, it holds industry-grade, cutting-edge labs, entrepreneurial and maker spaces, and inclusive learning environments.
Campus Recreation and Wellness Centre
The 90,000-square-foot Campus Recreation and Wellness Centre (CRWC) opened in June 2007. It offers a 28,000-square-foot triple gymnasium with areas for volleyball, basketball and badminton; the Flex, a 10,000-square-foot fitness centre; and an outstanding Campus Health Centre. Durham College's athletic facilities welcome more than 10,000 users a month. Students, employees and community residents all utilize the variety of fitness and recreational opportunities provided by the college.
The Campus Health Centre offers a variety of services including, massage therapy, acupuncture, chiropractic therapy, nutrition, mental health services, a pharmacy and a medical clinic.
Main building
In December 2009, Durham College proudly opened the first phase of the Whitby campus project, a comprehensive learning facility designed to train students in renewable energy and meet the projected demand for green jobs in Ontario. Students now have access to renewable energy equipment and training in a living laboratory environment focused on geothermal technology systems, solar cell systems and solar water heating, preparing them for a wide variety of exciting career opportunities.
Phase 2 opened in May 2011, adding phenomenal new space to the campus including an expanded shop area for student-use and programs focused on green building trades and technology. Phase 2 houses new energy labs, classrooms and boardrooms; new Student Association space; a renovated reception area and two new residential labs to give students a sense of the many changes happening in the construction and building trades sector.
W. Galen Weston Centre for Food
Focused on field-to-fork and sustainable business practices, the spectacular W. Galen Weston Centre for Food is home to Durham College's programs in culinary, food and farming, horticulture, hospitality, and special events management, along with a retail store and Bistro '67, a fine dining restaurant.