 About this class
Learn about Rotary's efforts to eradicate polio today and our plans to finish the job.
The event will be attended by Rotarians from the 10 Rotary Clubs in Durham Region and many civic officials as they livestream the event from the new Global Classroom at Durham College to Durham College's network of colleges worldwide and to Rotarians and the public, all over the world.
Special guests from Pakistan will also be connected during the livestream (between 7:30 and 8:15 pm Eastern Time) where it will be 3:30 am on Thursday morning, during  the keynote speech by Dr. Bob Scott, the immediate Past Chair of the Rotary International PolioPlus Committee worldwide. He will be updating the  audience, in Oshawa and around the globe, on Rotary's continuing effort to rid polio from every corner of the world. He will be connecting with Aseefa Bhutto Zardari, the first child in Pakistan to receive the oral polio vaccine, in 1994 as part of the country's first National Immunization Day.
Aseefa is a Rotary ambassador for polio eradication. Her mother, Benazir Bhutto, then prime minister, gave the drops to her daughter herself, a compelling endorsement of the nascent campaign. In 1988, at age 35, Assefa's mother, Benazir Bhutto became the first woman elected to lead a Muslim country. She was assassinated in 2007, just months after she had returned to Pakistan after almost nine years in exile. But Aseefa Bhutto Zardari – whose father, Asif Ali Zardari, served as president of Pakistan from 2008 to 2013 – is carrying on her mother's work. As a Rotary polio ambassador, she meets with officials, visits schools, and talks with families of health workers who were killed while working to vaccinate children.
"We encourage Rotarians, their families, and the public  to join us on October 24, 2018 starting at 5:45 pm , Eastern Time,  by going to https://durhamcollege.ca/globalclass/classes/ and link in to the Class "World Polio Day – Rotary International", Oshawa Past President Ron Dick added.
During the World Polio Day event, we will be linking everyone at Durham College and everyone watching the livestream from Durham College to Rotary International's  sixth annual World Polio Day event. We'll be streaming live , from the College of Physicians of Philadelphia, known as the birthplace of American medicine. It is one of the oldest professional medical organizations in the United States. Global health experts and Rotary's celebrity polio ambassadors will discuss our remarkable progress toward a polio-free world. Patience Asiimwe, the protagonist of Rotary's upcoming virtual reality film "Two Drops of Patience," will introduce the movie. A sneak peek from Rotary's documentary "Drop to Zero" will also be featured. Jeffrey Kluger, senior editor for Time magazine, will discuss his experience traveling to Nigeria with Rotary to report on polio eradication. And we'll celebrate the 30th anniversary of the founding of the Global Polio Eradication Initiative", Oshawa Past President Ron Dick added.
Mayor Henry said, "I am so proud of my Rotary Club of Oshawa and also the Oshawa-Parkwood Rotary Club for their efforts in Rotary's 33-year mission to eradicate the crippling childhood disease, polio".
Oshawa-Parkwood Rotary Past President David Andrews noted, "In many cities all over the world,  October 24, 2018 has been proclaimed  World Polio Day in honour of Rotary's efforts to eradicate polio from the world. Rotarians will be gathering at city and town halls to acknowledge October 24 as World Polio Day, and to reconfirm our deep commitment to Eradicate Polio from the face of the earth." 
The world is on the verge of eliminating one of the most dreaded diseases of the 20th century — poliomyelitis. During the first half of the 20th century, polio crippled over a half a million people every year. Even today, children in some developing countries continue to fall victim to the disease. But thanks in large part to Rotary International and to the 1.2 million Rotary members worldwide, including the 10 Durham Region Rotary Clubs , the disease will soon be all but a memory. 
As World Polio Day draws closer, the world is 99.9% polio-free, the fight to end polio is not over and Rotary Clubs world-wide continue to raise funds to meet the challenge.
Since Rotary and its partners launched the Global Polio Eradication Initiative, 33 years ago, the incidence of polio has plummeted by more than 99.9 percent, from about 350,000 children paralyzed due to polio every year, and in all of 2018, only 19 have been confirmed as of October 14, 2018  – 15 in Afghanistan and 4 in Pakistan. 
Oshawa Rotary Past President Ron Dick said, "Since 1985, Rotary members world-wide have contributed nearly US$1.8 billion to help immunize more than 2.5 billion children against polio, and we have helped secure over US$ 7.2 billion from donor governments worldwide. Coinciding with World Polio Day, Rotary is ramping up its advocacy work in the 200 countries and regions where Rotary clubs exist to encourage every national government to commit to the funding levels needed to close the gap."
"Events like this are happening all over the world on October 24 and throughout this week. Right here in our own Rotary District, in southern Ontario, Canada, flag raising ceremonies will be held in Markham, Richmond Hill, and other towns and cities in southern Ontario. There will be a flag raising ceremony at City Hall in Toronto right in the heart of the city, the home to the 2018 Rotary International Convention at 11 am on October 24. In the evening, we will also be lighting up the CN Tower, The Toronto sign in Nathan Phillips Square in downtown Toronto, and even Niagara Falls in red, white, and yellow , the colours of Rotary's End Polio Now campaign, to raise awareness to our cause and efforts in eradicating this disease," he added.
"We encourage everyone to join us, live, on October 24, 2018 starting at 5:45 pm to see what Rotary is doing to keep our promise to the children of the world – to eradicate polio" ,Oshawa Past President Ron Dick added.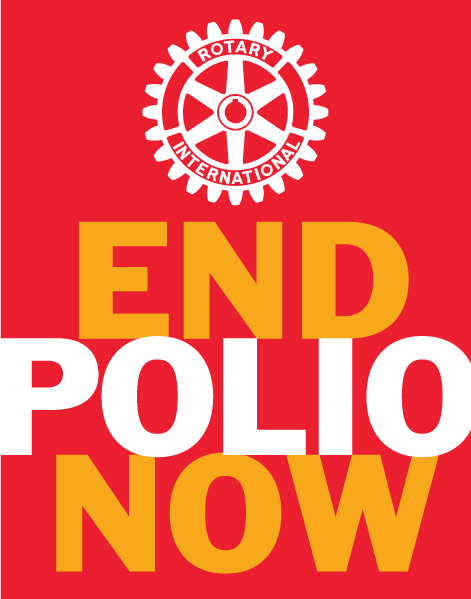 Hosts
---
Guests
---
Resources
---