Monday, October 21, 2019 saw the official launch of our own pocket library – a joint collaboration between Oshawa Public Libraries and our own Library located in the Fireside Reading Room.  The launch, which coincided with Ontario Public Library Week (October 20 – 26), celebrated the addition of a mini-collection of leisure reading titles available to all students, faculty, and staff.
All are welcome to help themselves to a book (no checkout required) and can either return or keep as they wish. Titles will be replenished regularly. Anyone can register for a free Oshawa Public Libraries membership right away to access electronic databases, ebooks and audiobooks, magazines and streaming movies and music. Sign up for an eMembership, and start enjoying!
The pocket library concept is a newer unique partnership in very few locations across Canada showcasing the benefits of close connections between public and academic libraries. We are thrilled to join in those ranks and look forward to more collaborations in the future.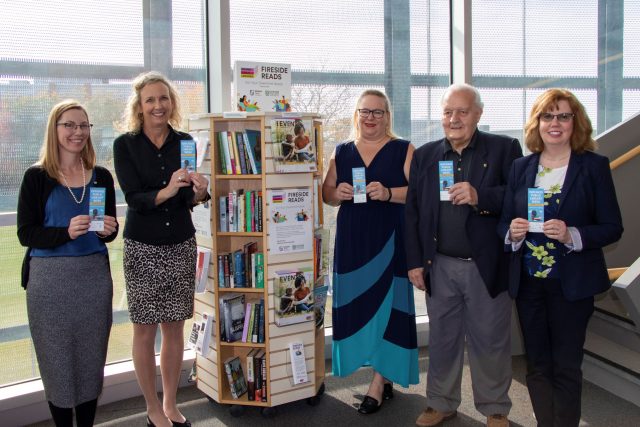 Emily Tufts, Associate University Librarian, Durham College; Catherine Davidson, Chief Librarian, Durham College, Beckie MacDonald, Manager, Oshawa Public Libraries; Doug Thomson Oshawa Public Libraries Board Chair, Oshawa Public Libraries; Frances Newman, CEO, Oshawa Public Libraries