Building for Skills
Durham College's (DC) Whitby campus is once again expanding, shining a spotlight on skilled trades training, innovation and education. Construction is set to begin the first weekend of December, with occupancy scheduled for summer 2021.
This project is the latest in the development of the college's Whitby campus, which has seen a 130 per cent increase in student population over the past 10 years. Growing alongside the increasing number of learners and apprentices has been the location's physical footprint. This construction marks the fourth phase of revitalization and expansion at this location.
Whitby Skills Training Centre construction tour
Project background
Given the skilled labour shortage both locally and nationally, the timing of this new project could not be better. Skills Canada estimates that one million skilled workers will be needed across Canada by 2020 and that 40 per cent of new jobs created in the next decade will be in skilled trades. Colleges Ontario forecasts that by 2030 the province will face a skilled labour shortage of more than 500,000 workers.
In addition, the college continuously hears from its partners that they need more skilled workers and would like new programs developed to focus on emerging industries. Yet in spite of DC's current efforts, the ability to keep up with the demand remains a challenge due to the physical space constraints at the Whitby campus.
Phase IV expansion details
With 60,000 sq. ft. of dedicated space to focus on high priorities, the phase IV expansion has been designed to significantly increase DC's industrial skilled trades training capacity and create more opportunities to participate in applied research projects to advance innovation and knowledge.
The following programs will call the expansion home:
The following are some of the unique features of the expansion:
A

double-height shop lab to address the specialized needs of both the mechanical and construction programs. Home to a two-storey building model, the lab will allow plumbing students to work underneath it while elevating devices students will be able to work in an easily accessible dual-level elevator shaft.

Classrooms with moveable walls and furniture to accommodate various configurations.

Training labs with dedicated space and equipment for a range of post-secondary and apprenticeship programs.

Student touchdown spaces.

A fitness centre.

A food services facility.
Current funding partners
Generously partnering with DC to help fund the expansion is the Region of Durham, which is contributing $2 million, the Town of Whitby, which is contributing $1 million, and individuals, corporations and foundations for a total of $5.3 million toward the $10 million in community support required to fully fund the construction.
Current progress
Feed of the construction progress updated weekly.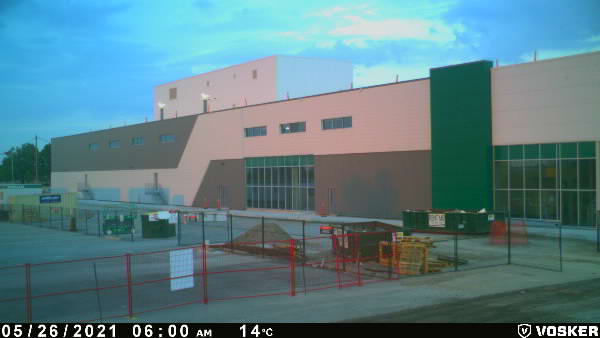 Steel structure goes up on Whitby Phase IV expansion
We recently resumed construction on this exciting project and are seeing great progress in the structural steel phase.
Structural work continues on Whitby Phase IV expansion
The structural steel is now complete and 80 per cent of the roof is watertight, with the remainder of the roof tracking to be completed on schedule.
Internally, the compressed air system has been designed and purchased and the subterranean duct bank has been designed and installed.
Insulated panels, glazing, and interior stairs are all now nearly complete. Work is ongoing.