Did you know that you are likely engaging in educational research every time you teach a new concept or facilitate your students completing an activity?  Most faculty are surprised to hear that they are!
If you are interested in more formalized ways to conduct educational research and improve student learning in your classroom or discipline, let's talk SoTL!
The Scholarship of Teaching and Learning (SoTL) is, at its core, an investigation into student learning. 
Educators need evidence to better understand what and how students learn, and then to use that information to evolve their own teaching and inform the practices of others with the goal of improving student learning (Openo et al., 2017).
SoTL involves purposeful, research-based inquiry to explore, understand and improve student learning through the strengthening of instructional practice.  SoTL brings a scholarly lens and dialogue to the intersection of student engagement & learning, professional reflection and practice, and integration of new ideas to teaching and student engagement (innovation & development).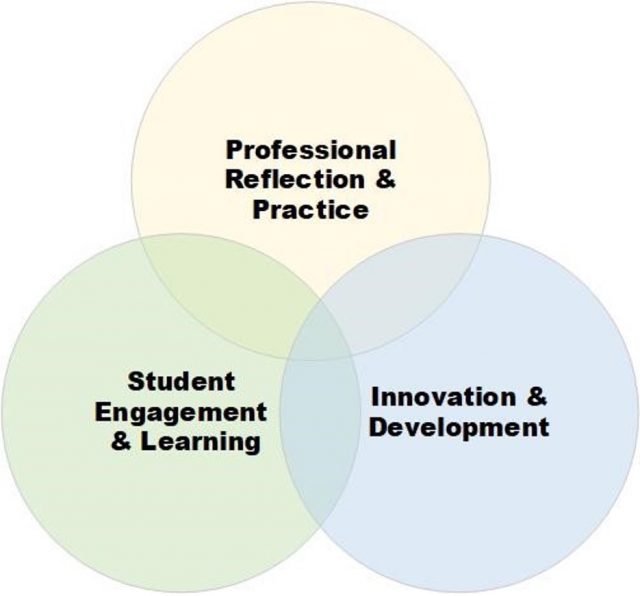 Boyer's (1990) Model of Scholarship (fig. 2) outlines 4 primary domains of faculty research and professional practice, which can aid in anchoring the concept and process of SoTL, and guide educators towards the most relevant type of research:
Discovery – original research that advances the existing body of knowledge;
Integration – bringing together, and interpreting, information to make connections across topics or disciplines;
Engagement – examining existing challenges in order to assist the community of peers and professionals;
Teaching & Learning – development of teaching strategies to improve student learning.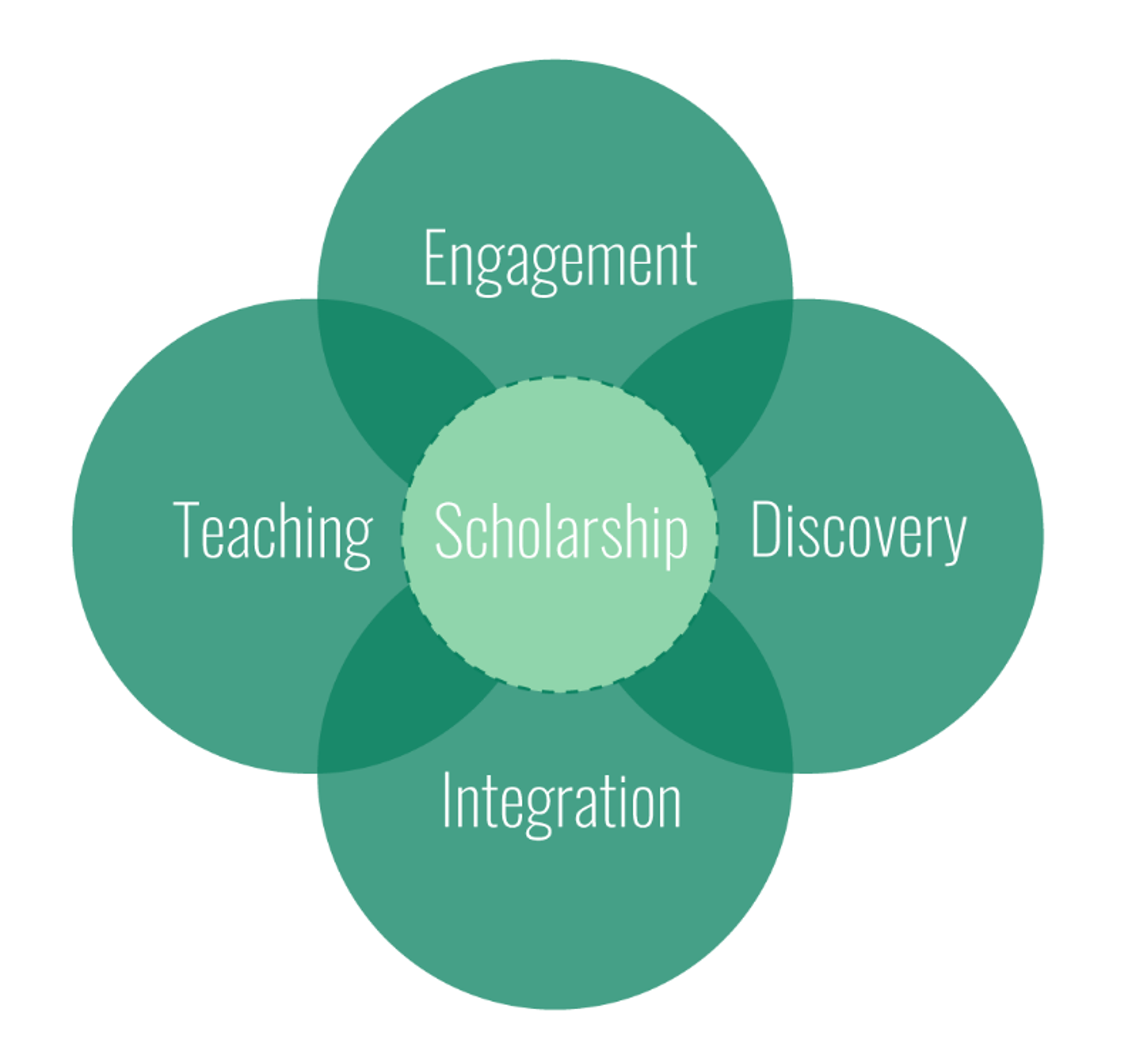 In the Durham College context, the research focus is on teaching and learning (students, faculty, classroom) supported by the CAFE, and applied research, supported by ORSIE. SoTL speaks to the former.
There are five primary principles that guide the development and implementation of a SoTL project:
Grounded in improvement of student learning;
Conducted using sound research methodology;
In partnership with students;
Reflects on teaching practice to improve overall learning;
Shared to contribute to the body of knowledge and practices pertaining to teaching and learning.
It is important to remember that "the overall intention of SoTL is... to improve student learning and enhance educational quality" (Poole & Simmons, 2013).
SoTL provides educators the opportunity to assess current practice, identify gaps or areas for improvement, and test and revise new practice based on sound, classroom-based research.  It also allows for educators to implement findings from other SoTL research into their own practice and reflect on whether those findings translated and resulted in improved student engagement and learning in their own classroom. SoTL may also be initiated as part of institutional quality assurance and enhancement processes.
SoTL benefits:
Students – by improving engagement and establishing durable learning that can be accessed and applied, or translated, outside of the classroom;
Educators – by deepening professional reflection on instructional practices, celebrating successes and visiting challenges, improving overall student engagement and learning;
Institutions – by demonstrating a commitment to student success and continuous revision of instructional practices, potentially leading to improved retention and positive institutional perception;
The Educational Community – by sharing findings, increasing the body of knowledge related to student engagement and learning.
SoTL activities present a unique opportunity to collaborate with colleagues and students Such collaboration provides an opportunity to engage in, or develop, a Professional Learning Community (PLC) of educators who share a goal of improving student learning and success.
---
References
Boyer, E. (1990). Scholarship reconsidered: Priorities of the professoriate.  New York, NY: Carnegie Foundation for the Advancement of Teaching.  Retrieved May 25, 2020, from https://www.hadinur.com/paper/BoyerScholarshipReconsidered.pdf.
Elgie, S. (2014). Researching Teaching and Student Outcomes in Postsecondary Education: An Introduction. Second edition. Toronto: Higher Education Quality Council of Ontario.
Openo, J. A., Laverty, C., Kolomitro, K., Borin, P., Goff, L., Stranach, M., & Gomaa, N. (2017). Bridging the Divide: Leveraging the Scholarship of Teaching and Learning for Quality Enhancement. Canadian Journal for the Scholarship of Teaching and Learning, 8(2), 1-18. doi:10.5206/cjsotl-rcacea.2017.2.6
The SoTL Guide. (n.d.). Retrieved May 28, 2020, from http://sotl.ucalgaryblogs.ca/
Subject Guides: SoTL - Scholarship of Teaching and Learning: Home. (n.d.). Retrieved May 22, 2020, from https://guides.library.ualberta.ca/sotl