What is Respondus Monitor?
Respondus Monitor is "a webcam feature for LockDown Browser that records students during online, non-proctored exams. When this feature is enabled for a quiz, students are required to use a webcam and microphone with LockDown Browser. In addition to recording the student, Lockdown Browser monitors a student's computer during testing, preventing copying, printing, accessing other applications, or visiting other websites during online testing. After the exam is complete, an instructor can review details of the assessment including the recorded videos".
We recommend that Respondus Monitor be used judiciously. We encourage the use of authentic assessments to support students' preparedness for industry. It is recommended that summative assessments, particularly those that are heavily weighed, focus on tasks / skills that students need in industry. Respondus Monitor should be considered only when necessary, as in cases in which regulatory bodies require proctored assessments.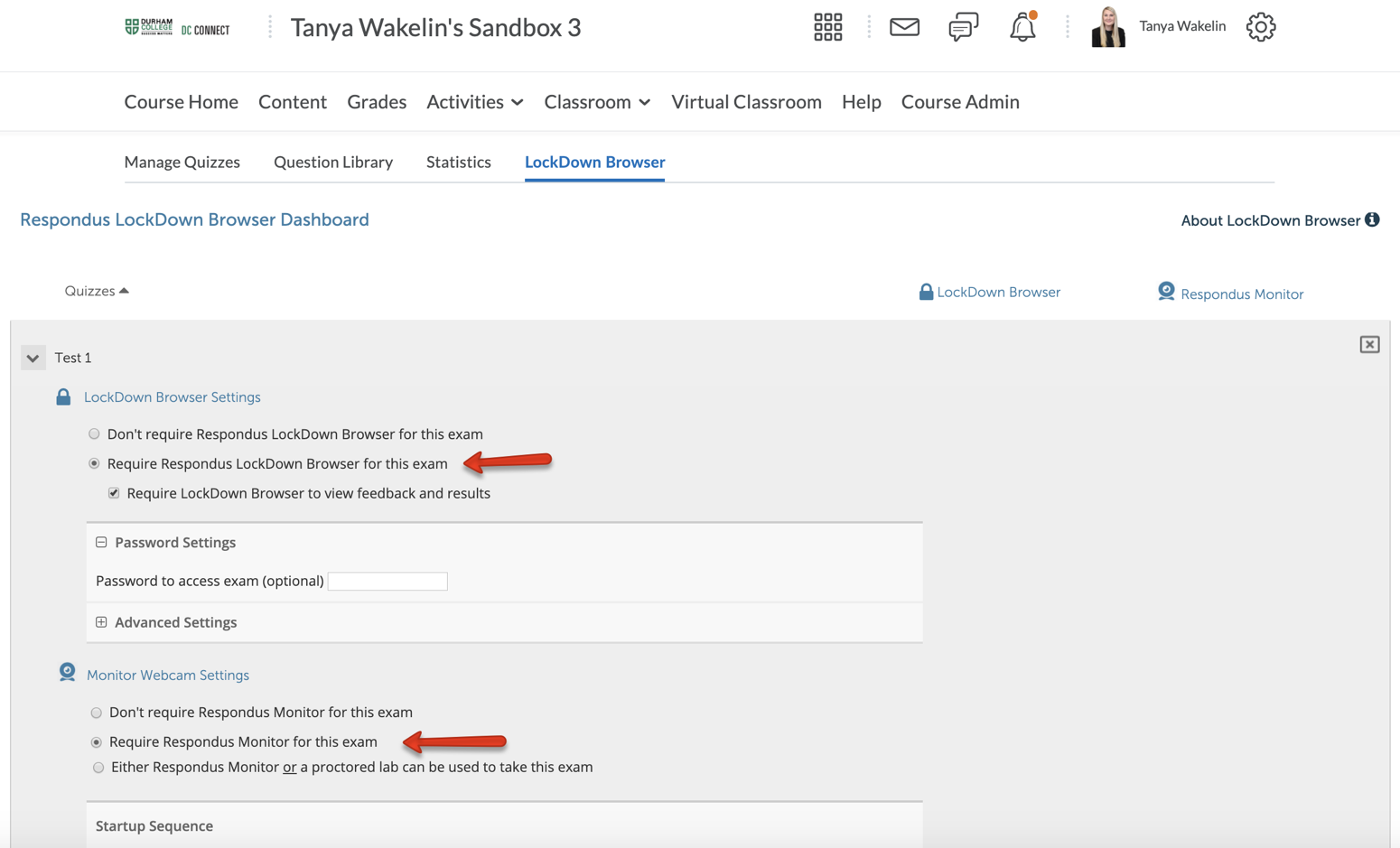 ---
Set up Respondus Lockdown Browser to access Respondus Monitor
To use Respondus Monitor, you'll need to set up Respondus Lockdown Browser for your quiz or test. To help familiarize yourself with these tools have a look at these Respondus Lockdown Browser resources.
---
Basic steps to use Respondus Monitor:
Important note
It is recommended that you host a trial quiz in Respondus Monitor for your students before you use the tool for a high stakes test or exam. This gives students a chance to try the tool and ensure their equipment is compatible with the tool and gives students a chance to get comfortable with the tehcnology.
Students have access to live chat provided by Respondus. Using Lockdown Browser, students will see a "help centre" button. Encourage students who are having technical issues to troubleshoot based on the resources available, and then contact "help centre" as needed.
Technical Compatibility
Respondus Monitor does NOT work with phones (iPhone or Android).
Respondus Monitor does NOT work on Chromebooks.
Respondus Monitor does have an iPad application. Faculty will need to turn on "allow students to take this exam with an iPad" setting, this setting is not on automatically.
System requirements for Students
Windows: 10, 8, 7
Mac: OS X 10.10 or higher
iOS: 10.0+ (iPad only). Faculty must have set permission for iPads to be used. Details.
Web camera (internal or external) & microphone
A broadband internet connection
Faculty Resources
Everything you need to know to set-up Respondus Lockdown is available in this QuickStart Guide.
After test/exam: How to review the prioritized flags of suspicious behaviour?

Wait 8-24 hours for videos to be processed
Videos can be reviewed in the Lockdown Browser Dashboard in the Quizzes area of your DC Connect course, then select "Class results" - step-by-step resource
It is important to understand that flags don't necessarily indicate cheating. The flags and Review Priority are tools to help faculty identify suspicious behaviour.
To review prioritized flags, you will need to understand the results, please see this document for details.
For an addition detailed description of how students are prioritized, please read this document.
---
Upcoming Respondus Monitor Webinars (Hosted by Respondus)
Respondus is hosting comprehensive training webinars intended for instructors who plan to use LockDown Browser and/or Respondus Monitor with online exams. Please consider participating in a webinar or watching a pre-recorded session. Please register at: https://web.respondus.com/webinars/
For a pre-recorded version, visit http://web.respondus.com/monitor-training/
---
Student Resources
Faculty, please use this Quick Start Guide for Students to support your students.
Respondus Monitor provides live chat support for students by using the "Help Centre" button which appears on the Lockdown application. For details, click here.
Students can also submit a helpdesk ticket at the following link.
---
Troubleshooting
What if a student loses their internet connection?
---
Accessibility
For more information, visit Respondus Monitor accessibility (or knowledgebase article)
Windows Users
The Windows version of LockDown Browser allows a student to use some screen reader programs, such as JAWS and Windows-Eyes. For further details
Mac and iPad Users
The Mac and the iPad version of LockDown Browser works with VoiceOver (the standard screen reader that comes with the Mac OS and iOS) and requires no additional effort by the user.
---
Best practices
If you plan on requiring your students to use Respondus Monitor for your DC Connect quizzes, there are some recommended best practices to follow.
Documentation
Be sure to distribute the Respondus Monitor – Quick Start Guide for Students documentation to your class as well as the link to the knowledgebase This document explains minimum computer requirements, how to prepare for a Respondus Monitor quiz, how to download and install the application, and what to expect when taking the quiz. Be sure to review the document yourself.
Practice
Try Respondus Monitor with a sample quiz first in order to familiarize your students with downloading, installing, and using the application, create a simple, no/low-stakes quiz at the beginning of the semester that your students must complete. Ensure students know how to access Respondus's Helpdesk for technical support.
WIFI
Ideally, all your students will be able to use a wired internet connection when completing the Respondus Monitor quiz. However, as this is unlikely, have your students turn off any device (mobile phone, tablet, etc.) that connects to the wireless network that they are not using to complete the quiz. This will help minimize the load on the wireless network supplying your test environment, and thus minimize the chance of a service interruption.
---
Student questions about Respondus Monitor
Why is Durham College using video and audio monitoring software?
Due to the orders and directives issued by the Government of Ontario, and relying on advice of public health authorities as it relates to COVID-19, Durham College is unable to administer in-person assessments at this time. Video monitoring through software is viewed to be an integral part of the transition to online learning. Use of this software allows the college to maintain the academic integrity of its assessments, while protecting the health and safety of all of its members by adopting the recommendations for physical distancing during the pandemic.
What information does the video and audio monitoring software collect about me?
During your assessment while the Respondus Monitor is enabled, the software collects video and audio recordings captured by your webcam and microphone, an image of your student ID, and data regarding your activity, including eye movement and the time taken by you to answer specific questions. The software also uses automated processes to help authorized Durham College personnel to evaluate the recordings.
Student identifiable information including name, grades, course name, and photos taken for identification cards is only accessible through Durham College's Learning Management System (LMS) by authorized Durham College personnel. Respondus cannot view or access your student information on the LMS.
Who has access to my video and audio recordings at Durham College?
Only authorized Durham College faculty or staff have access to view video and audio recordings of your assessment along with personal information such as your name. Authorization is granted on a course-by-course basis and is restricted to the following personnel:
Your course instructor(s) and teaching assistant(s);
Proctor(s) authorized by your Faculty;
LMS administrators; and
Faculty and staff responsible for the review, investigation and adjudication of allegations of academic misconduct pursuant to Durham College's academic regulations.
How will Durham College use my information?
Information will be treated in accordance with the Ontario's Freedom of Information and Protection of Privacy Act, the privacy law that governs the college. Every employee of Durham College is subject to this law, which means that information will only by used by personnel who require the information to perform their duties, and solely for the purpose the information was collected.
Assessments conducted through Respondus are not viewed or monitored in real-time like in-person assessments. Instead, the system is set up to generate data that flag any abnormal activity.
Audio and video recordings, along with the additional data generated by the software's automated processes, will be used by Durham College for the sole purposes of improving educational processes and managing the academic integrity of its assessments by: (i) allowing authorized personnel to review, assess, and analyze student performance and conduct; and (ii) using the relevant recordings as evidence for the purpose of investigating and adjudicating allegations of academic misconduct.
Images of student ID cards will be used to ensure compliance with Durham College's Examination and Grading Policy, which requires students to present student ID cards to verify their identity at the beginning of each final examination.
Who has access to my video and audio recordings at Respondus?
Only authorized personnel and third-party researchers (research institutions and/or biometric experts) performing research on behalf of Respondus will have access to video and audio recordings of assessments for the uses stated in the question below ("How will Respondus use my information").
Researchers do not have access to any personally identifiable information of any student, such as the student's name, course name, institution, grades, or student ID photos, and are bound by legal agreements that include confidentiality obligations that are at least as restrictive as the terms set out in the Respondus Privacy Policy.
How will Respondus use my information?
Respondus limits its use of information to purposes: (1) for which it has been given permission, (2) necessary to deliver the services, or (3) as may be required or permitted for legal compliance or other lawful purposes. Specifically, relating to the services, information is used to:
Improve and optimize the operation and performance of services;
Diagnose problems with and identify any security risks, errors, or needed enhancements to the services;
Detect and prevent fraud and abuse of services and systems;
Collect aggregate statistics about use of the services; and
Understand and analyze how Services are used
Do any other third parties have access to my personal information?
No. Other than the research purposes outlined in Question 5, Respondus will not share recordings or personal information with third parties.
How is my information secured?
Respondus Monitor uses industry standard SSL (Secure Socket Layer) or TLS (Transport Layer Security) encryption to transfer information. Respondus uses independent, third-party security firms to perform "penetration testing" of the Respondus Monitor system. This includes a review of the Respondus Monitor architecture and the testing for vulnerabilities and exploits. However, no data transmission over the Internet is 100% secure.
Within the LMS, student identifiable information including name, grade, course name, and photos that show identification cards can only be accessed by authorized Durham College personnel.
Only users with instructor credentials for the LMS course (e.g., instructors, teaching assistants, proctors, LMS administrators) are able to view video sessions in conjunction with student identifiable information. Video URLs are "one-time use" and will not function if copied.
Can Respondus or the virtual proctor access or view any other files or data that are stored on my computer?
No.  All files and data that are stored on your computer are secured by the Lockdown Browser.
How can I further protect my privacy interests when taking an assessment online?
During the assessment it is recommended that you situate yourself in a quiet and unoccupied space, where other persons inside your dwelling will not be observed, and remove or conceal personal property bearing images or names (e.g. family photographs or signs) to further maintain your privacy.
Do I need a functioning webcam or microphone?
Yes. Both webcam and microphone need to be functional and enabled on your computer at all times during the assessment.  If you do not have one or both of these capabilities, please contact your instructor.
How long does Respondus keep my information?
Your personal information will be retained by Respondus and Durham College for one year after it is collected. This is consistent with Ontario privacy law.
Who do I contact if I have questions or concerns?
Please contact your course instructor if you have any questions or concerns about the use of Respondus Monitor.
---
Notice of Collection and Use
The following statement is on the Student Terms of Use when using Respondus. Students must agree to the terms before being able to proceed. This information is being included on this page for faculty awareness as well.
"Durham College has an institutional license to use Respondus Monitor as a remote proctoring tool to support the administration of electronic examinations and assessments. Respondus Monitor is a cloud-based service and software that captures video, audio, and other data during student assessment sessions for use in monitoring students. This data is accessible to, and may be used by, authorized individuals at the college to administer student assessments and manage the academic integrity of such assessments. The Student Terms of Use for Respondus Monitor must be agreed to by users (e.g. students) prior to each use of the Respondus Monitor, available at https://web.respondus.com/tou-monitor-student/.
By accessing and using Respondus Monitor, you agree to the collection, use, disclosure and retention of your personal information (including personal images) by Respondus Inc. in accordance with its Privacy Policy, available at https://web.respondus.com/privacy-policy/. Questions regarding the collection of your personal information may be directed to: Durham College Privacy Office at 2000 Simcoe Street North, Oshawa, ON L1H 0C5, 905.721.2000, ext. 3292, email: melissa.pringle@durhamcollege.ca."